Live Events
You can always find a range of events happening here at The Maltings, from Family Activities to Live Music, Theatre and Comedy. As well as our own 'The Maltings Presents' series of events, you can also find listings for Community Theatre, Pantomimes, and all other events hosted in the building. Please check back regularly for details of new events!
Robin Hood
Category :
General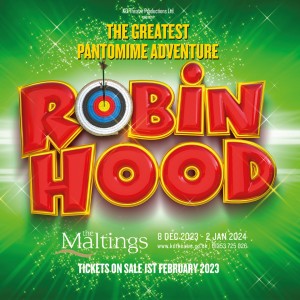 Hit the bullseye this Christmas as KD Theatre Productions return to The Maltings, Ely, this Christmas with Robin Hood - The Greatest Pantomime Adventure. 
Join the arrow-shooting heroic outlaw, Robin Hood as he tries to win the heart of the beautiful Maid Marion while he and his band of Merry Folk try to save the local townsfolk and defeat the wicked Sheriff of Rottingham.  
Robin Hood is sure to be a festive treat and will be filled to the brim with audience participation, hilarious comedy, dazzling dance routines and spectacular sets and costumes which are sure to hit the target!
Robin Hood - The Maltings, Ely

Friday 8th December 2023 to Wednesday 3rd January 2024Tickets from £16.00 - £21.00 (Family tickets available for select performances)
*£1.75 per ticket booking fee 

Running time: 
2 hour 15 minutes approx. (including 20 minute interval)
For information on 
Group Bookings (15 or more)
 our 
Babes in Arms
 or our 
Disabled Access
 policies, see 
Event Details
 or contact the box office.
Box Office: boxoffice@kdtheatre.co.uk or 01353 725026
 (Phone line is staffed Tuesday and Friday 10:00 – 16:00. An answer phone is available outside of these times)
Babes in Arms
To comply with fire regulations and licensing, every person in the auditorium, regardless of age, must have a valid ticket. Any child under the age of 18 months may attend for free if accompanied by an adult with a valid 
'Adult with Babe in Arms'
 ticket but the child must sit on the lap of an accompanying adult. Children over the age of 18 months must have their own seat charged at the applicable rate. 
Once in the auditorium, please consider the customers around you when handling your baby. Do not block the view of the child or patron behind you and if baby cries, please take them out of the auditorium promptly. Prams/buggies may be stored in the foyer at the owner's risk.
Individual 'Adult with Babe in Arms' tickets can be purchased online or from the Box Office.
Disabled Access including 1:1 Carers
Wheelchair accessible seating can be booked by contacting the box office directly.
Disabled customers who meet the requirements for proof of disability, as detailed below, will be able to purchase a ticket for themselves at the standard Adult, Concession or Admit 1 price and also receive a reduced rate 1:1 Carers ticket. Carers must be capable of supporting the disabled person's needs in the event of an emergency or evacuation of the venue if required. Carers must be aged 16 plus.
Box Office: boxoffice@kdtheatre.co.uk or 01353 725 026
 (Phone line is staffed Tuesday and Friday 10:00 – 16:00. An answer phone is available outside of these times)
To book tickets for 1:1 carers, wheelchair accessible seating, or groups of 15+, please get in touch with the box office directly
Tickets are available by clicking the link https://thelittleboxoffice.com/kdtheatre/event/view/173755 
Loading Map

Event Location : The Maltings, Ship Lane, Ely CB7 4BB, UK
---
Start Date : 2023-12-08 7:00 PM
End Date & Time : 2024-01-03 5:00 PM
Booking Start Date : 2023-03-12
Booking End Date : 2024-01-03