Live Events
You can always find a range of events happening here at The Maltings, from Family Activities to Live Music, Theatre and Comedy. As well as our own 'The Maltings Presents' series of events, you can also find listings for Community Theatre, Pantomimes, and all other events hosted in the building. Please check back regularly for details of new events!
Sleeping Beauty
Category :
Christmas
Sleeping Beauty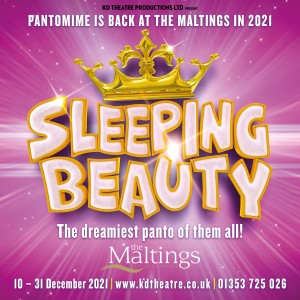 Join us for the most dreamiest pantomime of them all, 

'SLEEPING BEAUTY'

, at 

The Maltings in Ely.
In the Kingdom of Elytopia, celebrations have begun for the birth of the Princess Beauty, that is until the Evil Carabosse appears uninvited and casts a curse on the Princess that on her 18th birthday, she will prick her finger on a spinning wheel and fall into an enchanted sleep. Will the Dashing Prince save her from her slumber? Will the Nurse ever find a new husband and will Muddles finally get the court Jester job he's so longed for! 
We are delighted to announce that Ely's Favourite Funny Man, 

Terry Gauci

, will return for his 8th Ely Pantomime as 'Nurse O'Dear'
Featuring a live band, spectacular sets, stunning costumes and a cast of seasoned professionals – there really is no better home for family pantomime in East Cambridgeshire!
Loading Map

Event Location : The Maltings, Ship Lane, Ely CB7 4BB, UK
---
Start Date : 2021-12-10 11:00 AM
End Date & Time : 2021-12-31 3:00 PM
Booking Start Date : 2021-10-27
Booking End Date : 2021-12-31